Shooters Restaurant Group joins Team Stange Racing
March 14, 2014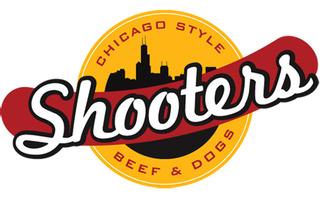 (FOREST PARK, Ill. – March 14, 2014) – Team Stange Racing welcomes Shooters Restaurant Group to their family of sponsors for 2014.
Parry Goodman, CEO OF Shooters Restaurant Group, LLC, said, "I'm very excited to be working with Team Stange Racing. They handle themselves not only professionally but with integrity. Ashley and John are just all around good people and great fun. They have a great dynamic. I think this is a dynamite opportunity for Shooters to get our brand out in front of the right audience and to brand our business."
Goodman will also be traveling to Mobile, Alabama for the ARCA Mobile 200 race weekend of events.
"We hope to demonstrate what our company can do to add to our retailer's customer experience," added Goodman. "The great thing about this sport and this team, which I have learned in particular, is their marketing knowledge and business-to-business expertise. I could not be happier. I am looking forward to building our relationship with Team Stange and Maryeve. They prove on a daily basis that they are willing to do what it takes to accomplish what has to be done."
Team owner Ashley Stange said, "I am happy to have Shooters Restaurant Group, LLC join our team and family of sponsors. They have a unique and growing concept that they are offering. We look forward to giving them the exposure to the wonderful race fans that support the teams, drivers and our great series ARCA."
Shooters Restaurant Group, headquartered in Weston, Florida, is unlike any regular onsite restaurant. In the winter of 2013, SRG developed a concept of food trolley's that can be permanently located at Big Box retailers and one stop shopping family centers. Shooters currently serves up high quality convenience food for on the go shoppers that consist of Chicago Style Hot Dogs, Chicago Style Italian Beef Sandwiches, Italian Sausage, Meatball Hoagies and everyone's favorite Chicago Style Artisan Pizza. The Shooters trolleys are currently opening locations at a favorite Midwest home improvement retailer and expanding to other areas in the United States with franchise opportunities available.
The first appearance for the No. 46 Shooters Restaurant Group Ford Fusion will be Thursday, March 20 at the pre-race fan fest located at the USS Alabama Battleship Memorial Park in Mobile, Alabama. The fan fest will be from 4:00-6:00. p.m., then followed by the ARCA Mobile 200 at Mobile International Speedway on Saturday, March 22. Shooters Restaurant Group will continue as primary sponsor for the following races at Talladega Superspeedway and Salem Speedway.