Maryeve Dufault Keeps No. 46 Up Front in Season Opening Race Runs in Top-5 for First Half of Lucas Oil 200 at Daytona
February 16, 2014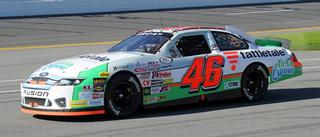 Forest Park, IL. (February 19, 2014) - - Maryeve Dufault and the No. 46 team had a good showing in the season opener on February 15 in the ARCA Lucas Oil 200 with Dufault leading four laps and running in the top-five for half the race. Dufault started the race in the 35th position and quickly moved to the front, taking the lead on lap 21 of the 80-lap event. Dufault stayed in the top-five for the next 28 laps until having to pit under green caused her to fall a lap back and eventually ending the race 18th.
"I couldn't be happier with our achievement last weekend in Daytona as a new team," said Dufault. "To lead at Daytona was a dream come true for me and I felt that I had an amazing restart to stay at the front of the pack. I knew the car would be good in the draft so I knew I needed to work hard and get with the fast cars. We were able to hang in the top five for the first half of the race and I think we proved that we could run up front and be a contender. There are so many tricks to running at Daytona and it's tough to get someone to run with so it was good to run with a veteran driver like Frank Kimmel. He trusted me in the bump draft so it was great to gain the respect of a veteran and I couldn't ask for a better driver to run with at Daytona. I had a couple of rough hits with the bump draft and it caught me coming out of the corner. But I was able to hang on to the car and after the race, some veteran drivers even commented on what a great job I did holding on to the car after getting bumped loose. After this race weekend we know what we need for the next race and I can't wait to get back in the car. It felt really good to make our sponsors proud and see their brand up front at Daytona."
Prior to the Lucas Oil 200, Team Stange announced a partnership with HotTVBrands.com and TattleTale Portable Alarms that made this race a first for not only the team, but its sponsors as well. Team owners John and Ashley Stange were very happy with the results. "I was truly amazed how exciting our first race could be, but most importantly I was surprised on how good the exposure was for our sponsors and how happy they were with Maryeve's performance and their first race as a sponsor on the #46 Maryeve machine," enthused John. "I have to thank HotTvBrands.com, Tattletale Portable Alarms, and our terrific crew for helping us make this race a success and we're looking forward to many more successful race weekends."
Team Stange has now returned to their Forest Park race shop and have begun preparations for the next event of the season, the ARCA Mobile 200 on March 22nd at Mobile International Speedway.
Team Stange Racing: John and Ashley Stange of Oak Park, Ill formed Team Stange in 2004. Their ARCA stock car program began in 2013 when they purchased the nine-time ARCA championship winning
team of Larry Clement Racing. They plan to field a Ford Fusion in all the events in the ARCA Racing Series presented by Menards in 2014 with driver Maryeve Dufault. Team Stange is especially adept at creating business-to-business programs for corporate partnerships and brand development. For more go to www.stangeracing.com and follow them on twitter @teamstange.
HotTVBrands.com: HotTVBrands.com is a direct response TV (DRTV) company founded to make and market hit consumer brands. We create high-demand mass retail products by designing innovative products that fill consumer needs and creating high awareness through direct TV advertisements. HotTVBrands.com will launch seven products in 2014 beginning with the "Click & Pour™" in January. The company was founded by Brent Meilke, a thirty-year consumer brands executive who has a resume that includes president of the Club® automotive anti-theft device that launched via direct TV and sold over 30 million units. For more on HotTVBrands.com go to www.hottvbrands.com.
Tattletale: Tattletale Portable Alarm Systems, Inc. was founded in 1995. Since then the company has sold thousands of alarm systems throughout the United States. The company's headquarters is in Westerville Ohio. The Tattletale alarm system is the world's first and only portable, digital cellular security system with high performance wireless sensors. The system is completely do-it-yourself (DIY) and can be unpacked and activated with tattletale's central alarm monitoring service and armed within minutes of purchase or lease. Tattletale's primary business is the design, development, production, and marketing of the world's first portable, digital cellular security system with high performance wireless sensors. In addition, tattletale provides 24 hour, nationwide wireless monitoring for every tattletale security system sold. For more information go to www.tattletale.com.