NASCAR veteran Rick Crawford becomes Maryeve Dufault's new crew chief
March 10, 2014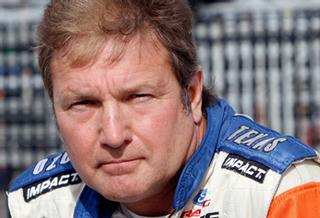 (FOREST PARK, Ill. - March 10, 2014) - Team Stange Racing owners John and Ashley Stange have announced they have hired Rick Crawford as crew chief for Team Stange for the rest of the 2014 ARCA Racing Series presented by Menards season.
Effective immediately, Crawford will be taking on duties of crew chief for Team Stange and their driver Maryeve Dufault. Crawford, a veteran of the NASCAR Camping World Truck Series, began his racing career as a short-track racer in the southeastern United States. As a Mobile, Alabama native, he accumulated several championships at local area tracks including Five Flags Speedway and Mobile International Speedway and earning five victories among 61 top-10 finishes in the Slim Jim All Pro Series. In 1997, Crawford made the move to the NASCAR Truck Series, racking up five wins, six poles, 75 top-five finishes and 160 top-10s. He currently holds the record for the most starts (336) in the series.
"I am ready to keep the momentum with the team, moving forward in the same direction that they left with in Daytona," Crawford said.
"The Stanges have been involved in other forms of racing and they have a vision and an understanding of what it takes to be a competitive team. They are fully committed to Team Stange and I am happy to be a part of that vision. I am looking forward to working with Maryeve, getting to know her and learning about what she wants out of her racecar to be able to have that competitive edge. 2014 will be a good year for Team Stange and we are all ready to make sure we are the best we can be."
"We couldn't be more thrilled that Rick has made the move to Team Stange," said team owner John Stange.
"He brings a wealth of experience and knowledge with him that our newly formed ARCA team can learn from, putting us at the desired level of competition that we set out for our team and sponsors."
Co-owner Ashley Stange added, "We are new to this series, and we were very satisfied with our results at Daytona. Maryeve and the team had great communication and seemed to gel the very first race. Rick is bringing strong leadership skills to Team Stange; it should really help create a strong level of constant communication and positive work attitudes with everyone. Both John and myself are looking forward to having him shape our team into the best it can be."
Dufault is excited about moving forward with Crawford.
"I think Rick has proven himself at many levels of racing and also has an understanding being a driver himself. We started the season on a high note, running up front at Daytona in the season opener. Having Rick on board will keep us moving forward and on the right track as a new team."
The next scheduled race for the No. 46 Team Stange Ford and Dufault will be the ARCA-Mobile 200 at Mobile International Speedway Saturday, March 22, 2014.