Maryeve Dufault Races in NASCAR Nationwide at Chicagoland Speedway
September 15, 2013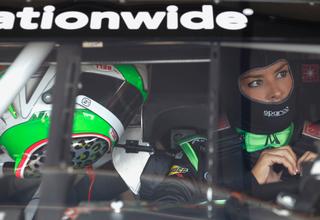 Mooresville, NC (September 17, 2013) - - Maryeve Dufault's NASCAR Nationwide series debut Saturday in the No. 79 SK Hand Tools/Go Green Racing Ford was a more challenging job than the Sorel, Quebec native would have liked to have on her resume. Multiple car issues during the course of the Dollar General 300 left Dufault muscling the car around the 1.5 mile oval but she persevered through the problems to finish in 31st place.
Dufault, in her first outing in the Nationwide Series had some issues in practice that kept her time on track to a minimum so she was pleased to come out and qualify in 36th place for the 200-lap Saturday event. "We were locked in for the race," explained Dufault, "so after the issues we had in practice I decided not to push too much in qualifying because we didn't need to do anything extra to get in the show. I was pretty happy in qualifying though because we still picked up some speed and the car felt pretty good."
Dufault started strong in the race and gained five positions in the opening stint and was on her way to pick up three more spots until after the first round of pit stops derailed her efforts. Dufault described it this way: "After the first stop, the car really changed on me. I knew I needed to just hold on until the next pit stop so we could make some changes but before we got to the next round of stops, the rear of the car really started to jump. Even my spotter could see the car stepping out so we knew something had gone wrong and we needed to head to the garage to find and fix the problem. We spent 11 minutes behind the wall and the crew did a great job working on a transmission issue but couldn't entirely get it fixed so despite the problems with the gears we decided to try and finish the race so I was able to get some seat time in the car. The crew really worked hard to get the car in a shape to make it to the end. It was just disappointing because our results this weekend didn't do justice to the capabilities of our team or showcase our partner SK Hand Tools. I'm fortunate to get an opportunity to partner with companies like SK Hand Tools, Von Zipper, Hilton French Polynesia, Billabong and Bell and we all want to succeed and run beside the top teams in Nationwide. I think with hard work and time, it will come."
*Media Note---At Richmond, Jeffrey Earnhardt raced the No. 79 Go Green Racing Ford starting 38th and finishing 28th.
About Go Green Racing---Go Green Racing is an American stock car racing team that debuted in NASCAR competition in 2009, competing in the Nationwide Series, before adding a part-time Sprint Cup Series team in 2012. The team, which raced with 14 different drivers in the 2011 season, is headquartered in Old Orchard Beach, Maine, but operates from a shop in Mooresville, North Carolina.
About SK Hand Tools---SK Hand Tool LLC is a subsidiary of IDEAL Industries, Inc. and a manufacturer of hand tools for professional auto, aircraft and boat mechanics.
For more on Maryeve follow her on twitter @maryevedufault, Facebook at Maryeve Racing or at Maryeveracing.com.